Brewing Station Events Calendar
Agent Orange w special guests Fujiwara & Unabombers
August 27 @ 10:30 pm

-

2:00 am
Event Navigation
Get Agent Orange tickets on TicketFly for only $15.
Buy Tix
Agent Orange Live – BloodStains
Punk to the core, yet with audible influences from early heavy metal and surf rock, Agent Orange formed in Fullerton, California at the end of the '70s, with vocalist/guitarist Mike Palm, bassist James Levesque, and drummer Scott Miller. Catch these guys live on the OBX, at the Outer Banks Brewing Station!
Agent Orange a punk rock band formed in Orange County, California in 1979. The band is one of the first to mix punk rock with surf music. They will be playing live at the Outer Banks Brewing Station and you wouldn't want to miss this show. Show starts at 10:30pm. The power trio's original lineup was Mike Palm on guitar and vocals, Steve Soto on bass, and Scott Miller on drums.
Soto played on the original "Bloodstains"; the Living in Darkness version of the song later appeared in Tony Hawk's Pro Skater 4. Soto later left the band to form The Adolescents. With James Levesque on bass, the group recorded the Living In Darkness LP with Brian Elliot, best known for composing Madonna's hit "Papa Don't Preach." The record was released by Posh Boy Records in November 1981. In 1988, Brent Liles replaced James Levesque on bass. Later that year, the band recorded Living In Total Darkness, a re-recording of the original album with a few new songs. This album did not go national and very few copies exist. In 1989, Derek O'Brien replaced Scott Miller on drums. In 1990, Agent Orange recorded Real Live Sound, the only Agent Orange recording to feature the Palm/Liles/O'Brien lineup. Sam Bolle replaced Brent Liles in January 1992, remaining with the band until May 2003, when he left to join surf guitar legend Dick Dale's band. Visit Their Facebook!
Fujiwara Live
Buy Tix
Check out our improved and upgraded sound system!!
Download Our Event Calendar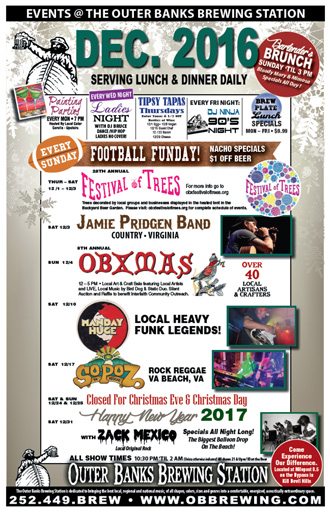 We are now making our Outer Banks Events and Live Music Poster available for download. Please display our poster at your place of business to remind your co-workers of what's happening this month, who knows, maybe it will strike up a conversation and everyone will want to come for drinks and dinner together sometime!? You could also download this Outer Banks events and live music calendar and pin it up on your wall at work as a personal reminder of when your favorite bands will be playing at the Outer Banks Brewing Station!
If you have any suggestions for OBX live music, we would like to know what bands our fans would like to see here at the brewery! Send us a shout!
Signup for our Brew Club
Sign up for our "Brew Club" to get the latest updates on beers, bands, and menu specials.
Give us your birthday and anniversary for a nice thank you gift on your special days!
Signup »