Brewing Station Events Calendar
Please note that ALL shows and events that start after 9pm are 21+ ONLY.
Chamomile and Whiskey
March 11, 2017 @ 10:30 pm

-

2:00 am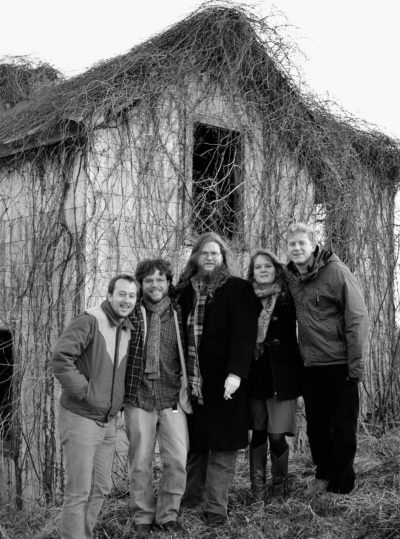 Chamomile and Whiskey formed in the Blue Ridge mountains of Virginia in the late winter of 2011. Marie Borgman and Koda Kerl had been traveling the country playing as a duo and returned home to Nelson County with the idea of forming a full band. After a few shows of expirementing with different musicians they quickly settled in with Tim Deibler, Brenning Greenfield, and Ryan Lavin. From the beginning the group played dozens of shows in the local bar scene, with an emphasis on high energy and passionate performance. With each of the members coming from different musical backgrounds the songs melded into a new sound… with shades of rock, americana, irish, gypsy, and old-time sounds… all played with a punk rock ferocity.
After a year of playing the local bar scene, the band signed with County Wide Records… a Charlottesville based label that worked with many of the bands influences, including Bobby St. Ours, Pantherburn, and Mister Baby. The band recorded an EP produced by Jamal Milner, in a barn in Nelson County… aptly titled The Barn Sessions it was released at the Southern in downtown Charlottesville in April 2012. The band's second year proved fruitful and saw them open for Rusted Root, Railroad Earth, J Roddy Walston and the Business, and The Hackensaw Boys. They also played their first headlining show at the Jefferson Theater.
2013 was a big year for the band. On May 24th they released their debut LP Wandering Boots at the Jefferson Theater. The album was produced by Rob Evans and has gained significant radio play in the local market. The band has toured for much of the year with performances up and down the east coast, from Vermont and New York down to South Carolina. With infectious and ever-changing live performance, the band has devoleped a reputation for engaging shows full of rowdy dancing and incredible collaborations.
2014 continued on with Chamomile and Whiskey touring more extensively than ever… making debuts in Chicago, Nashville, and New Orleans. They recorded a Daytrotter session in the summer and joined the Infamous Stringdusters at the Festy in Nelson Coutny. The band logged well over 100 shows in 2014, constatnly improving their sound. The Chamomile and Whiskey family is growing with more and more talented people collaborating with the band both on and off the stage. The future looks bright for these vagabonds, with rumors of a new recording starting soon…
Check out Chamomile and Whiskey Live
Related Events
Please note that ALL shows and events that start after 9pm are 21+ ONLY.
This is a North Carolina ALE law and there are no exceptions.
Per the NC ALE, we only accept the following forms of ID: A valid US driver's license, US military ID, a state of NC identification card, or a valid passport. We cannot accept out of state ID cards.