Brewing Station Events Calendar
Please note all OBX live music shows, dates, times and prices are subject to change like the weather here on the Outer Banks.
ALL live events that start after 9pm are 21+ ONLY.
All online ticket sales are final and non-refundable. If a show is canceled, refunds may be arranged.

Chris Robinson Brotherhood with The Texas Gentlemen
May 16, 2019 @ 10:00 pm

-

2:00 am

$35.00
The Chris Robinson Brotherhood are on tour in support of their latest studio album 'Barefoot In The Head.' In the middle of one of their most prolific periods to date, the band is riding a creative wave with a slew of studio and live records coming out amidst a rigorous tour schedule that only seems to fuel their fire even further. Their stellar new album, 'Barefoot In The Head,' marks the CRB's third studio release in just two years, and it finds them pushing boundaries and breaking new ground with more joy and wonder than ever before. Overspilling with stunning musicianship and infectious energy, the album showcases the continued growth of Robinson's songwriting partnership with his bandmates: guitarist Neal Casal, drummer Tony Leone, keyboardist Adam MacDougall, and bassist Jeff Hill. It revels in the kind of adventurousness that can only come from five artists tuned into the same sonic wavelength.
'Barefoot In The Head' follows last year's critically acclaimed LP, 'Any Way You Love, We Know How You Feel,' and its companion EP, 'If You Lived Here, You Would Be Home By Now.' It opens with the Americana funk of "Behold The Seer," which sounds like something of a mission statement for the CRB as Robinson sings, "If you want to keep your engine humming / Keep your eyes wide ahead and don't look back." On the dreamy "She Shares My Blanket," Robinson crafts cinematic scenes from a winter love affair in the mountains, while elegant pedal steel added by special guest Barry Sless on "Blonde Light Of Morning" casts a warm, romantic haze and "Blue Star Woman" sounds like T-Rex dressed in overalls living on a West Coast commune. Throughout the album, Robinson and the band deftly intertwine country, blues and psychedelia, even channeling freewheeling 60s' folk on "Hark The Herald Hermit Speaks," a breakneck stream of consciousness that blurs the lines between fantasy and reality.
With a steady flow of new studio albums and live recordings plus a near non-stop touring schedule, including a growing number of sold out shows, the Chris Robinson Brotherhood are proving themselves among the most prolific rock and roll bands of their time. The quintet have honed their kinetic chemistry and immersive sound into a singular vision, which Uncut Magazine calls, "...a celebration of how American musical traditions can be at once honored and psychedelically expanded."
Watch Chris Robinson Brotherhood Live
About The Texas Gentlemen>
Sometimes, authenticity can sneak up on you. The first sounds you hear on The Texas Gentlemen's debut studio album, TX Jelly, is that of a band slowly coming together.
It's deceptive, because it creates the impression these Gentlemen might be hesitant about their first record, but any hint of uncertainty vanishes as the core quintet — Beau Bedford, Nik Lee, Dan Creamer, Scott Lee Jr and Ryan Ake — tears into the opening track, Habbie Doobie, a low-slung piece of vintage country-funk that slams out of the speakers and announces The Texas Gentlemen as a force to be reckoned with.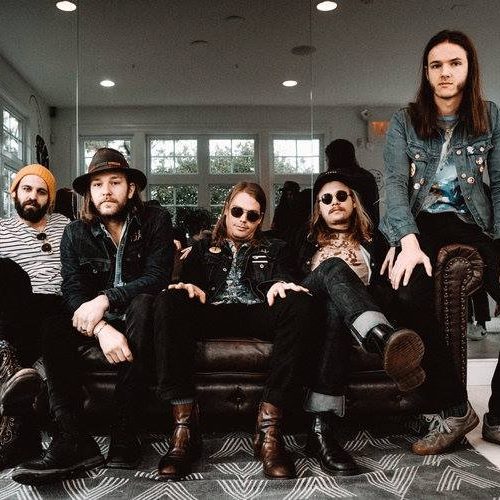 This Lone Star-bred collective takes its cues from some of the iconic acts of the past — the quicksilver brilliance of The Wrecking Crew, The Muscle Shoals Swampers (who backed everyone from Aretha to Wilson Pickett), Booker T. and The M.G.'s, and Bob Dylan's one-time backers The Band are the most obvious examples. In 2014, the band took up a residency in Dallas, Texas at Sundown at Granada, during which The Texas Gentlemen assumed their name. Soon after, the Gents began collaborating with a multitude of artists on stage and in the studio, becoming an all-purpose backing band for an eclectic array of singer-songwriters, including Leon Bridges, Nikki Lane, and more.
In 2016, the Gentlemen were lured out of the studio to the Newport Folk Festival, where they were joined by iconic troubadour Kris Kristofferson, making his first Newport appearance in more than 45 years. Rolling Stone called it one of the festival's "most exciting sets."
Kristofferson so enjoyed collaborating with The Texas Gentlemen that he enlisted them to reprise their roles in a series of critically acclaimed Texas concerts. Of Kristofferson and The Texas Gentlemen's appearance at Bass Performance Hall in Fort Worth, music critic Preston Jones wrote "The [instruments] would slowly coalesce around Kristofferson's gnarled but still potent voice, creating an electric sensation of the past fusing with the present."
That deft fusion of before and right now is possible thanks to the musicians' unswerving dedication to simply playing to the best of their abilities, trusting their instincts, and letting the music guide them. Case in point: TX Jelly was created in less than a week — four days, start to finish — at Muscle Shoals' singular FAME Studios.
Pared down from the 28 songs the Gentlemen recorded in that 96-hour span, TX Jelly effortlessly connects way back to what's next, summoning the spirits of American songcraft even as it heralds the arrival of 21st century talent. Cut live, with little use for the blinding polish and careful presentation of so much modern music, TX Jelly oozes with skill backed up by that hard-won authenticity.
TX Jelly moves between contemplative and raucous, encompassing the full breadth of the American experience. The music touches on blues, soul, folk, country, rock and gospel — from first track to last, you can feel The Texas Gentlemen reaching deep inside themselves and finding what's genuine — what illuminates the truth of the country's rich, complicated and singular artistic history — and delivering it the only way they know how: real, raw and righteous.
The Texas Gentlemen Live
Related Events
Please note all Outer Banks live music shows, dates, times and prices are subject to change like the weather here on the OBX.
ALL shows and events that start after 9pm are 21+ ONLY.
This is a North Carolina ALE law and there are no exceptions.
Per the NC ALE, we only accept the following forms of ID: A valid US driver's license, US military ID, a state of NC identification card, or a valid passport. We cannot accept out-of-state ID cards.
All online ticket sales are final and non-refundable. If a show is canceled, refunds may be arranged.