Brewing Station Events Calendar
Dance Candy
July 3 @ 10:30 pm

-

2:00 am
Event Navigation
Check out Candy Dance Live
Slide into a seat at a Dance Candy party and you'll know there's something a little different happening tonight. Feelin' good? You know you're lookin' good. Yeah, I see you.
Now don't get too comfy in that seat. Hear the dance floor callin' your name? Finish that drink and order another. You'll be sticking around for a while tonight.
From the way your friends hit the dance floor, it certainly feels like a Pharrell meets Justin Timberlake kind of night. Yup, here comes Miley to kick up the party a notch. And of course, the band knows how to handle Michael Jackson…he is the King of Pop, after all. But just then, the band cools things off with a vintage cocktail of chilled-out Marvin Gaye. Mix in the soul of Aretha and Bob Marley, the modern style of Cee-Lo and Bruno Mars, and chase it down with a nightcap of Stevie Wonder, and you got yourself a bit more than the night you bargained for. Better text your boss and let her know you'll be in a little late tomorrow.
At most parties, you get cheap snacks and lukewarm beer. At this party, the band serves straight-up, high-class soul candy.
The thing we love about neo-soul is all the layers—all the influences. Hip hop and pop, jazz and funk and straight-up R&B all creating a big, funky scene of party-down. Dance Candy has got this thing down cold.
This all-star lineup features a soulful, sensuous female voice that draws influences from everyone like pop stars Adele and Whitney Houston to R&B greats like Jill Scott and Sharon Jones. The deep groove rhythm section can set the tone for everything from 70s funk to hip hop. The sophisticated, funky leads of the guitar set up the soaring melodies of the trumpet to leaves jaws dropped and hearts broken.
Dance Candy is a tight, polished six-pack of musicianship, schooled in the vibrant VCU music scene in Richmond. Heart and soul. Everything you need for this party…and the night of your life.
This is straight-up, right-now Dance Candy. No chaser.
Band Members
Samantha Reed- Vocals
Steven Boone- Guitar/ Vocals
Jerel Crockett- Keys/ Vocals
Derrick Englert- Bass
Joshua McCormick- Drums
Mark Ingraham- Horns/ Percussion
Check out our improved and upgraded sound system!!
Download Our Event Calendar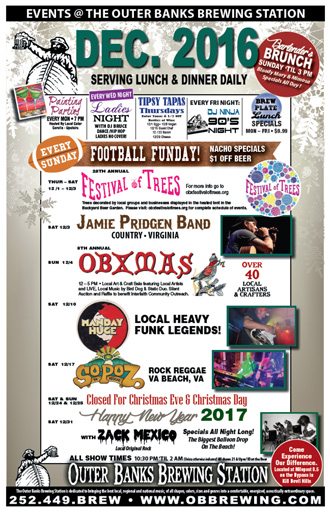 We are now making our Outer Banks Events and Live Music Poster available for download. Please display our poster at your place of business to remind your co-workers of what's happening this month, who knows, maybe it will strike up a conversation and everyone will want to come for drinks and dinner together sometime!? You could also download this Outer Banks events and live music calendar and pin it up on your wall at work as a personal reminder of when your favorite bands will be playing at the Outer Banks Brewing Station!
If you have any suggestions for OBX live music, we would like to know what bands our fans would like to see here at the brewery! Send us a shout!
Signup for our Brew Club
Sign up for our "Brew Club" to get the latest updates on beers, bands, and menu specials.
Give us your birthday and anniversary for a nice thank you gift on your special days!
Signup »