Brewing Station Events Calendar
DEJA Performs: Pink Floyd, In The Flesh
July 23 @ 10:30 pm

-

2:00 am
Event Navigation
Listen to Deja Live
A Full Costume and Theatrical Performance
DEJA is an EPIC SONGS tribute band. Since 2006, DEJA has wowed audiences with their musically challenging song choices performed with frightening exactitiude to make for an incredibly EXCITING entertainment experience. DEJA has come to be known as the "musicians band". Playing songs that other bands dare not attempt. EPIC songs like: Bohemian Rhapsody, Dream On, The Spirit of Radio, Roundabout, Hocus Pocus, Frankenstein and the list goes on! DEJA is the ultimate tribute band combining the best of Rush, Pink Floyd, Led Zeppelin, Yes, Styx, Journey, The Who, Queen, Boston, Kansas, etc…
DEJA has opened for national acts such as Kansas, The Romantics & Foghat, played numerous festivals and toured venues in Connecticut and New York in the Summer of 2012 & New Jersey in the summer of 2014. The group consists of five of the most renowned artists in the area. With Drew Thow on drums & vocals, John Coleman on lead vocals and keytar, Steve Latham on guitar, keyboards & vocals, Eric Edmunds on guitar and Jimmy Wiseman on bass, keys & vocals, DEJA is a force to be reckoned with.
Check out our improved and upgraded sound system!!
Download Our Event Calendar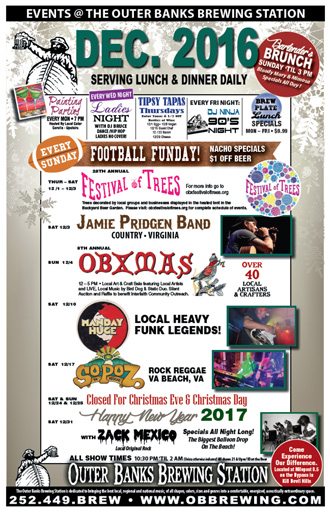 We are now making our Outer Banks Events and Live Music Poster available for download. Please display our poster at your place of business to remind your co-workers of what's happening this month, who knows, maybe it will strike up a conversation and everyone will want to come for drinks and dinner together sometime!? You could also download this Outer Banks events and live music calendar and pin it up on your wall at work as a personal reminder of when your favorite bands will be playing at the Outer Banks Brewing Station!
If you have any suggestions for OBX live music, we would like to know what bands our fans would like to see here at the brewery! Send us a shout!
Signup for our Brew Club
Sign up for our "Brew Club" to get the latest updates on beers, bands, and menu specials.
Give us your birthday and anniversary for a nice thank you gift on your special days!
Signup »