Brewing Station Events Calendar
DJ Indo VII
Event Navigation
My name is Chris Burrell, I am an upcoming DJ/Producer in the Electronic Dance Music (EDM) genre that goes by the alias INDOVII (INDO-7). I spin, mix & remix tracks from Tech House, House, Progressive House, Electro, Progressive Trance, Trance, Dub-Step, Trap-Step, High Energy Top 40 & More. I have some of my own tracks that I am working on in developing in the Electro, Trap-Step & Progressive House genres.
What got me started was the same thing that inspired me. My first concert I had ever gone to was Ultra Music Festival of 2011 in Miami, Florida. Some may have said that I probably messed up my entire concert experience because going to such an event had set the bar for me so high. But while I was there, I watched DJ's take crowds of 100,000+ people and gave them music which allowed them the freedom of expressing themselves however they saw fit. The great thing about the EDM genre is that you can dance however you like, and how that music could bring people from all over the world together for one purpose and one purpose only….to PARTY!!! While attending as a guest at Ultra Music Festival of 2011 and watching Kaskade at the main stage from within the crowd, and watching everyone's vibes made me realize I could do the exact same thing, that's where I want to be, this what I wanted my life to be. This later in the end made me realize my true goal in life. To one day be considered up there with the great DJ's and Producers from the Electronic Dance Music genre of my time.
I started off mixing Electro, High Energy Top-40 & Progressive House in Mid-2013. In 2014 I began to incorporate other genres such as Tech House, House, Progressive Trance, Trance, Dub-Step & Trap-Step; to which I began remixing and mashing up tracks to which later brought me to remixing Hip-Hop over EDM style tracks. In 2013 I began my podcast called "R3HAB S3SSIONS", to where I would post hourly long mixes and some remixes/mashups/bootlegs that I have created which can be found on Mixcloud.com.
You can find them at: www.facebook.com/indovii
This will bring you to my Facebook fan page and will allow you to keep up-to-date with my upcoming podcast, mixes, remixes, productions, events and more.
Thank you for stopping by, can't wait to show you what I have coming up. Stay tuned. It's going to be one hell of a ride.
-INDO VII
Listen to DJ Indo VII Mix it Up
Check out our improved and upgraded sound system!!
Download Our Event Calendar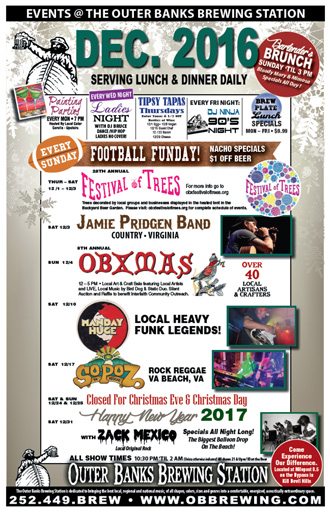 We are now making our Outer Banks Events and Live Music Poster available for download. Please display our poster at your place of business to remind your co-workers of what's happening this month, who knows, maybe it will strike up a conversation and everyone will want to come for drinks and dinner together sometime!? You could also download this Outer Banks events and live music calendar and pin it up on your wall at work as a personal reminder of when your favorite bands will be playing at the Outer Banks Brewing Station!
If you have any suggestions for OBX live music, we would like to know what bands our fans would like to see here at the brewery! Send us a shout!
Signup for our Brew Club
Sign up for our "Brew Club" to get the latest updates on beers, bands, and menu specials.
Give us your birthday and anniversary for a nice thank you gift on your special days!
Signup »