Brewing Station Events Calendar
Exotic Erotic Ball XVI featuring Regatta 69
October 31 @ 9:30 pm

-

2:00 am
Event Navigation
The Outer Banks Brewing Station will host their 16th Annual Exotic Erotic Ball on Halloween night, Monday the 31st.
After the kids are done trick or treating, it's time for the adults to come out and play at the Brewing Station's annual Exotic Erotic Ball, for adults only, featuring a $100 costume contest and live entertainment. The party rock dance music will continue until well after midnight.
The party is happening on Halloween, Monday Night, October 31, doors opening at 9:30pm
About Regatta 69
The rowdy REGATTA 69-Ship has set sails to conquer the world – THE AIM IS THE WAY! There's no looking back anymore, it's going forward, and nothing can stop them! Captain Brian Hill from North Carolina (USA) has settled an international crew around him (Germany, France, UK, USA) and the smell of the Caribbean, rum and pure adventure is in the air wherever the wind may carry them.
On board they hold the most precious treasures a Ska band can own – the essences of amazing and original music: a box full of Ska, another one filled with Reggae, a case with Rock and a couple of powder kegs filled with Dub and Worldbeat – always being fired in the right moment. Of course there has to be a Lady on every pirate ship! Motha Nature gives you chills and goose bumps with her Rap-adventures – she gets to every core of the cruel reality with her bittersweet voice.
REGATTA 69 has been sailing the seas since the days when Ska was only spread across the Ska-scene-underground. Times were rough and tough, but the Captain and his crew would not be the determined and experienced pirates they are today, if they had not fought every battle and overcome any mutiny! On their minds – always the stage! They tour under every condition as long as the audience is dancing! USA, Europe or South Africa – every harbor gets occupied, every city taken! REGATTA 69 has played more than 1500 concerts over the last years!
THE AIM IS THE WAY is a journey through the Seven Seas of Ska and Reggae in a Regatta 69-own version. The album is as multifaceted as the band itself – every song has its own history, but together they form a unique adventure that stands out from the masses of today's uniformed CDs. Their path leads them to the people in every single town, spreading their music into every corner of the world: This path is their goal – THE AIM IS THE WAY!
Regatta 69 Live
Check out our improved and upgraded sound system!!
Download Our Event Calendar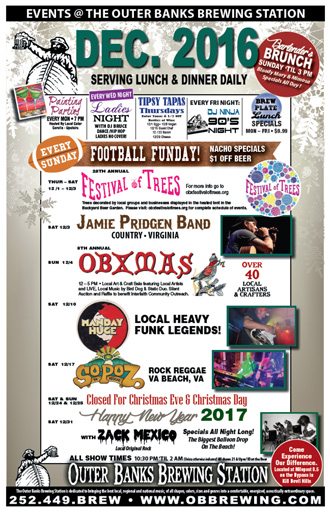 We are now making our Outer Banks Events and Live Music Poster available for download. Please display our poster at your place of business to remind your co-workers of what's happening this month, who knows, maybe it will strike up a conversation and everyone will want to come for drinks and dinner together sometime!? You could also download this Outer Banks events and live music calendar and pin it up on your wall at work as a personal reminder of when your favorite bands will be playing at the Outer Banks Brewing Station!
If you have any suggestions for OBX live music, we would like to know what bands our fans would like to see here at the brewery! Send us a shout!
Signup for our Brew Club
Sign up for our "Brew Club" to get the latest updates on beers, bands, and menu specials.
Give us your birthday and anniversary for a nice thank you gift on your special days!
Signup »