Brewing Station Events Calendar
Family Tree
Event Navigation
Check Out Family Tree
With roots in just about every musical genre, and focusing lyrically on personal growth and today's most vital issues-Family Tree has evolved into a driving force of reassuring positivity as well as dissent. Formed in 1998, the members of the band have been working passionately since day one to keep these central ideas in mind along every step of the way. With the release of their first full-length album in November of 2003 and their critically acclaimed EP, Silver Lining in 2005, Family Tree is undoubtedly ready to expand its reach and gain the attention of new and unexpecting listeners.
Family Tree consists of: Derek Smith-acoustic and electric guitars and vocals; Zach Klecka-electric violin; Kevin Johnson-bass; Alex Clark-drums and vocals and Kevin Turner-electric guitar and vocals. "The result is a virtually flawless ensemble with infinite possibilities"-David Todd of Portfolio Weekly Magazine.
Over the past thirteen years, Family Tree has received a large amount of attention and has gathered an extremely diverse following in and around their home area of Hampton Roads, Virginia. The band has been featured on the area's public radio station-WHRV, the former progressive rock station-The Coast, modern-rock leader 96X and has been positively reviewed many times by Ninevolt Magazine, once the premier music magazine for the Hampton Roads and Richmond areas of Virginia.
Family Tree has shared the stage with:
311
Steel Pulse
The Roots
Toots and the Maytals
The Temptations
Fighting Gravity
Indigenous
SOJA
Family Tree has shown its staying power through consistent audience response at many venues and has performed once at the Virginia Beach Amphitheater and numerous times at the prestigious NorVA Theater in downtown Norfolk.
For More Information, Please Visit The Family Tree Website!
Check out our improved and upgraded sound system!!
Download Our Event Calendar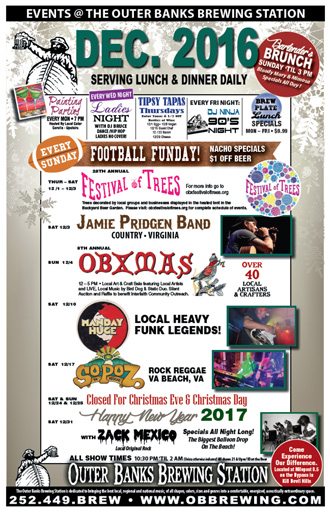 We are now making our Outer Banks Events and Live Music Poster available for download. Please display our poster at your place of business to remind your co-workers of what's happening this month, who knows, maybe it will strike up a conversation and everyone will want to come for drinks and dinner together sometime!? You could also download this Outer Banks events and live music calendar and pin it up on your wall at work as a personal reminder of when your favorite bands will be playing at the Outer Banks Brewing Station!
If you have any suggestions for OBX live music, we would like to know what bands our fans would like to see here at the brewery! Send us a shout!
Signup for our Brew Club
Sign up for our "Brew Club" to get the latest updates on beers, bands, and menu specials.
Give us your birthday and anniversary for a nice thank you gift on your special days!
Signup »