Brewing Station Events Calendar
Please note all OBX live music shows, dates, times and prices are subject to change like the weather here on the Outer Banks.
ALL live events that start after 9pm are 21+ ONLY.

Frozen Head & the Squirrels
April 27, 2019 @ 10:00 pm

-

2:00 am
RAVRA Productions Presents:
Frozen Head & the Squirrels
Saturday, April 27, 2019 @ 10pm
Frozen Head and the Squirrels is a band formed in 2004 based out of the Outer Banks, North Carolina, known for their live performances. Usually appearing as a trio (guitar, bass, and drums) their forte is eclectic rock and roll covers, 60's surf music, cali-reggae, and party songs. They play at Parties, Bars/Clubs, Restaurants, Weddings, Special Events, etc. Depending on the venue, audience, and setting, the music can be drastically different from one performance to another. In the band's interpretations of the songs, other genres that can be heard include jazz, blues, country, bluegrass, indie rock, psychadelic rock, funk, folk,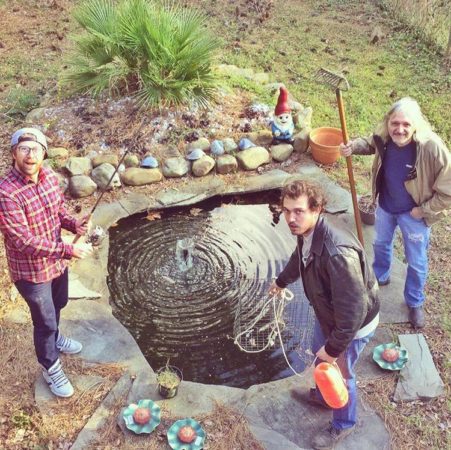 and even classical undertones. Living and playing around the Outer Banks, North Carolina, has somewhat conformed them with the demand of "covers", playing what audiences of the area what to hear most: familiar songs, and stuff that they can relate to. They keep it eclectic, while aiming to connect to each and every audience member through at least a couple of songs in the set. Some of the more prominent bands that have influenced their style include Ween, the Ventures, Talking Heads, David Bowie, Bob Dylan, Sublime, the Pixies, Devo, Mgmt, and the Rolling Stones.
Frozen Head and the Squirrels usually perform as as a trio (guitar, bass, and drums), but occasionally have other friends sit in on sax, keys, mandolin, harmonica, etc. There have been a few different drummers and bass players over the years, but for the last few seasons, the 3 primary members are:
Broughton Aycock- guitar, vocals Stephan Carbocci – bass guitar Jacob Richardson – drums.
Josh Martier also plays drums about half of the time. Other drummers that they occasionally play with include Dan Martier, John O'Dell, Adam Lavigne, Ben Falcon, Jayson "Mole" Hicks. Other Bass players that occasionally play include Jon Lea, Ed Tupper, Mick Vaughn, and Christian Ferri. Between Broughton's commitment to front and manage the band and keep it fresh, Stephan's in-the-pocket heavy sub sound, and Jacob's energetic driving hits and personality, they mesh into something that makes Frozen Head the Squirrels truely enjoyable and unique.
The backgrounds differ very much, being that the 3 primary band members are from all different generations (ages 20, 30, and 60), but the common goal that they share is to just keep playing music, enjoy doing what they do, travel, and keep people entertained. Stephan Carbocci is classically trained, and as they say, if you understand classical music, you can understand everything else in music. Broughton Aycock started playing by ear at an early age, and is enthused with the 60's fender sound. Jacob Richardson is a "prodigy" drummer, was on the stage at 15 years old, and is just open to play everything. Their 3 styles mesh well and have helped them progress by feeding off of each others knowledge and talent.
The band's extensive repertoire consists of over 300 songs, 15+ hours of music. Members have shared the bill with many national recording aritists such as The Wailers, TR3 featuring Tim Reynolds, Donna the Buffalo, Yellowman, Blues traveler, and others. Over the years many live recordings have been produced as well as a few studio demos. Frozen Head & the Squirrels have always been avidly involved in supporting and promoting the Outer Banks' art and music scene, working with many projects, festivals, and events, including charities such as Hotline and Relay for Life. The group is constantly generating audiences and fans by self promotion through the internet, event posters, local media, networking through contacts, and merchandise. The band is technologically fully equipped, but prefers to use a venue's equipment if that is what produces the best sound.
Related Events
Please note all Outer Banks live music shows, dates, times and prices are subject to change like the weather here on the OBX.
ALL shows and events that start after 9pm are 21+ ONLY.
This is a North Carolina ALE law and there are no exceptions.
Per the NC ALE, we only accept the following forms of ID: A valid US driver's license, US military ID, a state of NC identification card, or a valid passport. We cannot accept out of state ID cards.
 
Download/Print Our Monthly Calendar