Brewing Station Events Calendar
Please note all shows, dates, times and prices are subject to change like the weather here on the OBX.
ALL shows and events that start after 9pm are 21+ ONLY.
Jamie Pridgen Band
February 18, 2017 @ 10:30 pm

-

2:00 am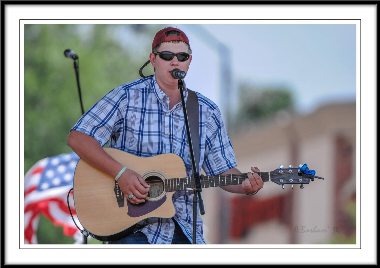 Jamie Pridgen discovered his musical talents at a young age. His Grandfather was the leader of a classic Country band called the "Country Echoes Band" out of Rocky Mount, NC. At the age of 2 he was being held in the arms of his grandfather, Donald, in a rehearsal room in the mountains when the band started practicing a song called "Till each tear you cry becomes a rose" by Keith Whitley, when he joined in for the first time. Band members and family members were shocked that he was on key and sounded like a singer, and not a 2 year old. After that Jamie was the center of attention in the "Country Echoes Band". Around the age of 4 his grandfather picked him up a pair of spoons from the local guitar center for him to play during the songs. When he was only 7 years old his family members presented him with a guitar for Christmas and he immediately started taking lessons from his grandfather. He enjoyed many years of playing in the band but he knew it wouldn't last forever. The Country Echoes band broke up when he was about 9 years old. He continued to play with just his grandfather at small get-to-gethers, and small events.
The son of a construction worker, Jamie knows patience and determination are key elements when it comes to a successful build—or career—and he's dedicated to growth. He soon started playing at small hometown talent contests where he won his first ever talent contest at the Rocky Mount fair in 2011. After that, He had more confidence in his music abilities and started playing at other places such as restaurants and bars. He entered a contest called Nash County's got Talent in 2013 and came in 2nd place out of 20 other talented musicians. "I love to create a fun and energetic energy at my shows. I have had a lot of people tell me my music has lifted their spirits after a long day" Pridgen says. "I have never wanted to grow fast in this business," he maintains. "I have always wanted to take my time, make it happen and be smart about it and I've been lucky—all that stuff is happening."
Although being torn between two of his favorite things, firefighting and music, he still tries to make room for friends and family. Jamie joined the Battleboro fire department as a jr. firefighter when he was at the age of 14. It was something he wanted to do since he was a kid.
Now being older, he still loves being a firefighter but also is more passionate about his music. Pridgen says "I want to see how far we can take this thing." Unlike other musicians, Pridgen thinks of his fans as part of the group to. "Without my fans none of this would be possible. I think of them as part of the group just as much as I do my drummer and guitar player" Pridgen says. He now is trying to expand his music and talent farther than his hometown. With support of friends and family He continues to share his music with as many people as possible. He has played in several different cities and states. Jamie is very determined to take his music as far as possible and says nothing will stand in his way. He strongly believes, "I can do all things through Christ who strengthens me" – Philippians 4:13
Check Jamie Pridgen Band out Live
Related Events
Please note all shows, dates, times and prices are subject to change like the weather here on the OBX.
ALL shows and events that start after 9pm are 21+ ONLY.
This is a North Carolina ALE law and there are no exceptions.
Per the NC ALE, we only accept the following forms of ID: A valid US driver's license, US military ID, a state of NC identification card, or a valid passport. We cannot accept out of state ID cards.