Brewing Station Events Calendar
Jamie Pridgen
August 13 @ 5:30 pm

-

8:30 pm
Event Navigation
Check Out Jamie Pridgen
About Jamie Pridgen
Jamie Pridgen discovered his musical talents at a young age. His Grandfather was the leader of a classic Country band called the "Country Echoes Band" out of Rocky Mount, NC. At the age of 2 he was being held in the arms of his grandfather, Donald, in a rehearsal room in the mountains when the band started practicing a song called "Till each tear you cry becomes a rose" by Keith Whitley, when he joined in for the first time. Band members and family members were shocked that he was on key and sounded like a singer, and not a 2 year old. After that Jamie was the center of attention in the "Country Echoes Band".
Band Members
Jamie Pridgen (Lead singer/ Rhythm Guitar)
Mike Caleo (Lead Guitar)
Jimmy Campbell (Drums)
Chance Ferguson (Bass)
Bob "Muskrat" Reams (Steele Guitar)
Check out our improved and upgraded sound system!!
Download Our Event Calendar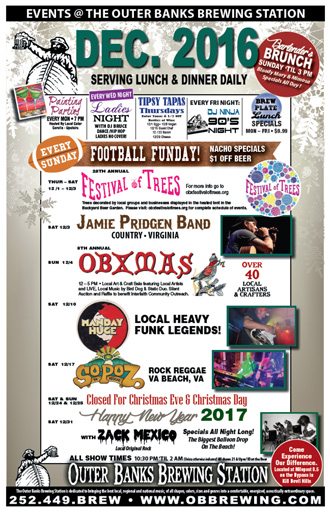 We are now making our Outer Banks Events and Live Music Poster available for download. Please display our poster at your place of business to remind your co-workers of what's happening this month, who knows, maybe it will strike up a conversation and everyone will want to come for drinks and dinner together sometime!? You could also download this Outer Banks events and live music calendar and pin it up on your wall at work as a personal reminder of when your favorite bands will be playing at the Outer Banks Brewing Station!
If you have any suggestions for OBX live music, we would like to know what bands our fans would like to see here at the brewery! Send us a shout!
Signup for our Brew Club
Sign up for our "Brew Club" to get the latest updates on beers, bands, and menu specials.
Give us your birthday and anniversary for a nice thank you gift on your special days!
Signup »