Brewing Station Events Calendar
Please note that ALL shows and events that start after 9pm are 21+ ONLY.
Manday Huge – Rolo's 50th Birthday Party
March 16, 2018 @ 10:00 pm

-

2:00 am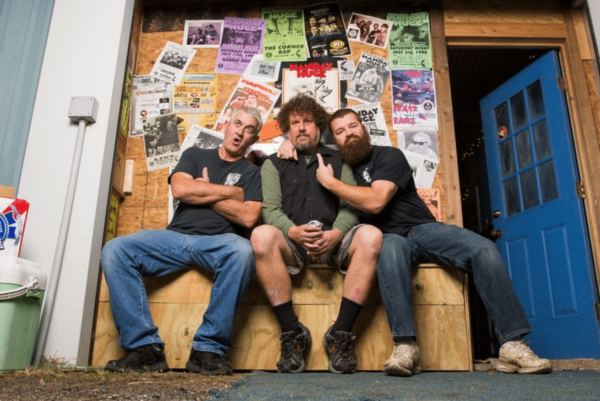 Manday Huge's bass-player and vocalist, Chris "Rolo" Rollison, is turning 50!  Come celebrate the milestone at the Outer Banks Brewing Station on March 16, starting at 10 pm. Special guest Mota Morte to follow at midnight.
Wanna know what fuels every rock band? It's not record sales. Nor fame. Talent? Respect? Riches? Hardly. For Manday Huge, the answer is: fun. Plain and simple. The band's love for lugging amps, playing live, and the mad memories it produces. Like playing at the Louisiana dive bar that doubled as a laundromat, mixing overloaded baskets with teeming mosh pits. Or that time the brakes caught fire blazing down a West Virginia Mountaintop.
In the early 90s, bands like Primus and the Red Hot Chili Peppers already reigned supreme. So when Tsonev, bass-player/vocalist Chris "Rolo" Rollison and drummer Buddy Allison started showing off their funk-rock chops in '93, they stage-dove into the mix.
"Right away, we clicked," says Rolo, an axe-virtuoso who switched to bass to join the band. "We started writing songs, playing gigs – BOOM! – things moved quick."
Mixing styles from speed metal to ska, Manday Huge blends energy, dexterity, variety, and volume with quality musicianship and natural aggression. Jams are hard. Words get heavy, capturing all the pre-mellennium, counter-culture chaos that gave rise to acts like Rage Against the Machine and Nirvana.
Related Events
Please note that ALL shows and events that start after 9pm are 21+ ONLY.
This is a North Carolina ALE law and there are no exceptions.
Per the NC ALE, we only accept the following forms of ID: A valid US driver's license, US military ID, a state of NC identification card, or a valid passport. We cannot accept out of state ID cards.