Brewing Station Events Calendar
New Kingston with EarthKry
Event Navigation
Tickets are not available as this event has passed.
See New Kingston and EarthKry Live
Tickets Available at the Door
New Kingston Reggae
New Kingston formed in 2006 in the basement of their Brooklyn home, when brothers Tahir (keys), Courtney Jr. (drums) & Stephen (guitar) began covering music by the likes of Bob Marley, Earth Wind & Fire, Dennis Brown, Michael Jackson, The Whispers and many more. The three brothers, under the watchful eye of their father (and bassist) Courtney Panton Sr., called themselves New Kingston to appropriately reflect a combination of their Jamaican heritage and their present lives in progressive New York City. The musical styles of both places informed their sound and songwriting.
"We used to come home from school and we'd be marched right down to the music room by our dad," said Stephen.
They began performing in other basements and small backyard parties around town, all the while developing their skills and beginning to write their own original music. Talent rises to the top, and soon enough New Kingston started a heavy touring cycle supporting reggae stars such as Rebelution, The Green, SOJA, Matisyahu, Beres Hammond and Collie Buddz, while also securing spots on notable festivals such as the California Roots Festival, Reggae On The River, Summer Jam (Germany), and Uppsala Reggae Festival (Sweden), to name a few. For a while, they joined Collie Buddz to tour as his backing band, which exposed them to international audiences, while continuing their education on what it takes to make a great live show. It also helped them realize they had tons of their own original material and they quickly moved from that role to being a headliner on their own.
The band's background and upbringing are reflected in their approach to the industry, as well: they are truly a U.S. reggae band, part of the movement that has revitalized and evolved the genre domestically, with a focus on digital marketing, heavy national touring, and never sticking to a stale formula for what reggae should sound like. As second generation Jamaican-Americans, they are able to just as easily hold their own with the traditional reggae scene.
New Kingston self-released two full-length albums: In The Streets (2010) and Kingston University (2013). The band recently announced the signing to New York-based reggae label Easy Star Records and will release their third studio album Kingston City on January 27, 2015. The record features collaborations with Tribal Seeds, Kimie Miner, France's Dub Inc., Sister Carol, The Wailing Souls, and the late, great father of dancehall, Sugar Minott. If that guest list doesn't give you a snapshot of the combination of the old world and new horizons that New Kingston is all about, nothing will.
EarthKry
The Earth Kry band was born and nurtured within the halls of the Edna Manley College of The Visual & Performing Arts in Kingston, Jamaica where four budding musicians hoped to hone their skills. Their journey began with a twist of fate which brought together keyboard player Phillip Mcfarlane , drummer Kieron Cunningham, bass guitarist Kamardo Blake and vocalist/guitarist Aldayne Haughton, to play a series of small gigs. Drawing inspiration from Bob Marley and The Wailers, The Beatles, John Holt, Peter Tosh, Jacob Miller, Black Uhuru and Steel Pulse, the group soon cemented a wholesome fusion of Roots Reggae, Souls and Rock genres for a fresh but universal sound.
Much like the iconic reggae outfit The Wailers, the band chose its name, Earth Kry, to signify its mission to voice the grievances of the downtrodden through the vibrations of their music. Befittingly, their debut single "9 to 5" echoes the daily tribulations of the working class who are barely able to make ends meet from the menial wages they receive.
Since 2013 the band has spent much of their time creating music with other notable artistes in recording sessions while further developing their signature sound. Through the guidance of veteran drummer/ lecturer Derrick Stewart, veteran trumpeter Nambo Robinson and guitarist/former tutor Maurice Gordon, the band works towards releasing their first E.P and then debut album Hard Road in the near future.
Check out EarthKry Live
Check out our improved and upgraded sound system!!
Download Our Event Calendar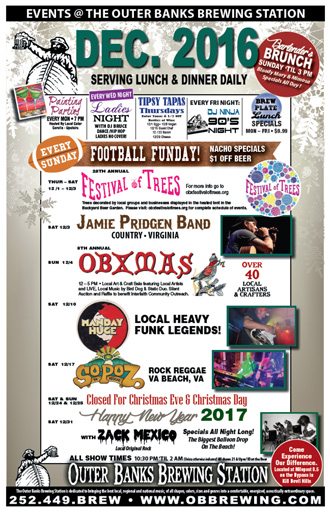 We are now making our Outer Banks Events and Live Music Poster available for download. Please display our poster at your place of business to remind your co-workers of what's happening this month, who knows, maybe it will strike up a conversation and everyone will want to come for drinks and dinner together sometime!? You could also download this Outer Banks events and live music calendar and pin it up on your wall at work as a personal reminder of when your favorite bands will be playing at the Outer Banks Brewing Station!
If you have any suggestions for OBX live music, we would like to know what bands our fans would like to see here at the brewery! Send us a shout!
Signup for our Brew Club
Sign up for our "Brew Club" to get the latest updates on beers, bands, and menu specials.
Give us your birthday and anniversary for a nice thank you gift on your special days!
Signup »