Brewing Station Events Calendar
Please note that ALL shows and events that start after 9pm are 21+ ONLY.
Pebble To Pearl
July 14, 2018 @ 10:30 pm

-

2:00 am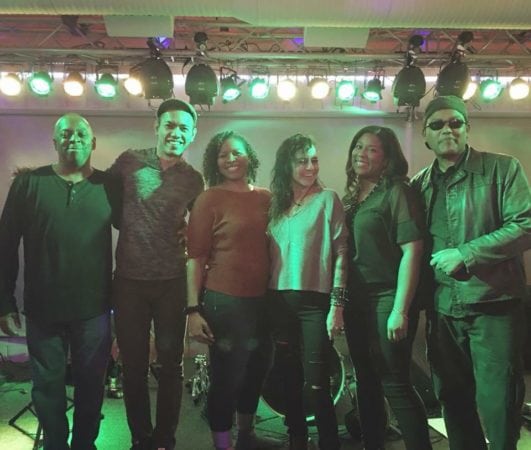 RAVRA Productions Presents:
Pebble to Pearl (P2P) creates a unique blend of funk, rock, fierce and powerful blues fused and delivered with soulful grooves and incomparable vocals. They display a tapestry of sound that will truly captivate, mesmerize, and send chills down your spine, while undeniably keeping you entertained and dancing. P2P is road bound, touring up and down the East Coast to venues like the House of Blues in Orlando to the Canal Room in NYC. They bring a collaboration of professional musicians and vocalists from the southwest and Mid-Atlantic who have shared stages with the likes of Chuck Shaffer Picture Show, Rome in a Day, Army of Me, Minus-One, The Blackjacks, JunkFood, The Hint, My Favorite Highway, Fight the Lion, The X's, Shane Hines and the Trance, JurisFiction, All Time Low, Jimmie's Chicken Shack, Welbilt, The Speaks, Crash Boom Bang, Rude Buddha, Everyone But Pete, Klymaxx, Salt & Pepa, Chrisette Michelle, Erykah Badu, MC Lyte, Keke Wyatt, Chico Debarge, Estelle, Hello Tokyo, Chuck Brown, Paula Campbell, Backyard Band, Yolanda Adams, B.B. King, Genuine, Missy Elliot, & Tweet.
They have no boundaries with visible influences from legends like Stevie Wonder, Michael Jackson, Tina Turner, and Chaka Khan, to the new generation powerhouses ranging from Beyonce and Rihanna to Joss Stone and Lenny Kravitz. Their self-entitled EP, debuted in March 2018, holds no bounds in blending a combination of funky blues rock with hard-hitting and flawless vocals. If you haven't seen them in action, you are missing a keynote in the chromatic scale. They throw in everything but the kitchen sink into their show and leave a lasting impression and the need for wanting more.
Please note that ALL shows and events that start after 9pm are 21+ ONLY.
This is a North Carolina ALE law and there are no exceptions.
Per the NC ALE, we only accept the following forms of ID: A valid US driver's license, US military ID, a state of NC identification card, or a valid passport. We cannot accept out of state ID cards.