Brewing Station Events Calendar
Please note that ALL shows and events that start after 9pm are 21+ ONLY.
STRAWS – a Film by Linda Booker
April 9, 2018 @ 7:00 pm

-

9:00 pm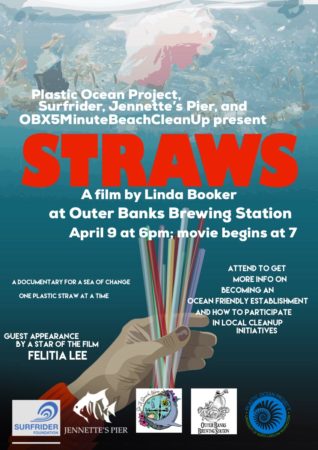 Outer Banks Brewing Station will be screening STRAWS (30 minutes), a film by Linda Booker, on April 9 starting at 7 pm. Afterwards, there will be a Q&A with Felitia Lee, the Environmental Coordinator at The Blockade Runner Beach Resort in Wrightsville Beach.
With colorful straw history animation narrated by Oscar winner Tim Robbins, STRAWS eaves audiences with a clear understanding of the problems caused by plastic pollution and empowers individuals to be part of the solution.
It's estimated every day 500,000,000+ plastic straws are used once and tossed in the U.S. alone. Ocean Conservancy ranks straws as the #5 most found litter item on beaches. They're non-recyclable, so they wind up in landfills, litter streets and add to the estimated 8.5 million metric tons of plastic debris in oceans annually.
Director Linda Booker interviews Jackie Nunez, founder of The Last Plastic Straw, restaurant owners with "Straws by Request Only" policies, renown marine biologist and author Dr. Wallace J. Nichols, researcher Dr. Jenna Jambeck and Drifters Project artist Pam Longobardi. In Costa Rica we meet Turtle researchers Nathan Robinson and Christine Figgener, PhD student, Texas A&M University, who rescued and filmed the removal of a plastic straw in a sea turtle's nose that went viral in 2015. That story inspired middle school age student Max Machum to start #NoStrawChallenge #SinPajillaPorFavor and join a movement around the world that's making a sea of change, one plastic straw at a time.
Check out the Trailer Here
Related Events
Please note that ALL shows and events that start after 9pm are 21+ ONLY.
This is a North Carolina ALE law and there are no exceptions.
Per the NC ALE, we only accept the following forms of ID: A valid US driver's license, US military ID, a state of NC identification card, or a valid passport. We cannot accept out of state ID cards.