Brewing Station Events Calendar
The Travelers
October 29 @ 10:30 pm

-

2:00 am
Event Navigation
The Travelers began making music in 2010 in Philadelphia as a duo consisting of classically trained guitarist Kyle Hazelton and vocalist Jon Hagen. The two met at Philadelphia University and soon realized they both had a love for music that superseded school, work, and most luxuries and necessities, sometimes including sleep. Their first co-written song, "The Last Lone Ranger" is the last track featured on their debut album, "The Spaceman Cometh."
Kyle and Jon decided to call themselves the Travelers after walking around much of Philadelphia playing the song for anyone who would listen. Soon Kyle's brother Justin joined the band with his angelic flute melodies and fierce writing style. The three became a songwriting powerhouse, with influences from blues, rock, hip-hop and jazz. They played the open mic circuit and small venues in Philadelphia, where they met guitarist, James Margolis of Bala Cynwyd, PA. James, a former student at Berkley College of Music, brings a deep knowledge of music history and a keen sense of music theory.
James pioneered the way for the Travelers to break into the New York live music scene in 2012 and introduced them to bassist Parker St. Charles of Albany, NY, an ambassador of funk and soul. At Parker's insistence, the group found a drummer, Phil Harris, from Athens, GA. Phil Harris drives diverse beats with vast cultural influences and a savvy to be envied.
Currently the Travelers play every Friday night in New York's Upper East Side, unless they have a gig out of town. The band has traveled as far west as Denver, CO, as far east as Ocean City, MD, as far north as Montgomery, VT, and as far south as Charleston, SC. They hope to spread their music across the globe.
Members:
Kyle Hazelton, Jonathan Hagen, Justin Hazelton, Phil Harris, Parker St. Charles, James Margolis, Mark Falcone
Check out The Travelers Live
Check out our improved and upgraded sound system!!
Download Our Event Calendar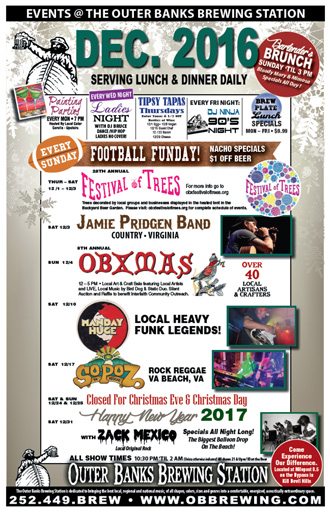 We are now making our Outer Banks Events and Live Music Poster available for download. Please display our poster at your place of business to remind your co-workers of what's happening this month, who knows, maybe it will strike up a conversation and everyone will want to come for drinks and dinner together sometime!? You could also download this Outer Banks events and live music calendar and pin it up on your wall at work as a personal reminder of when your favorite bands will be playing at the Outer Banks Brewing Station!
If you have any suggestions for OBX live music, we would like to know what bands our fans would like to see here at the brewery! Send us a shout!
Signup for our Brew Club
Sign up for our "Brew Club" to get the latest updates on beers, bands, and menu specials.
Give us your birthday and anniversary for a nice thank you gift on your special days!
Signup »