Brewing Station Events Calendar
The Traveler's
Event Navigation
Take a musical journey with The Travelers as they move you with their unique fusion of alternative rock, neo-soul, jazz, hip- hop, folk and blues, that soulfully blends the musical influences of each of the contributing band members. Now residing in Brooklyn NY, the players hail from all along the east coast, including metropolitan Philadelphia, Albany, DC, and Georgia. Their songs talk of journeys along life's paths, lessons learned, love, and celebrate the diversity of people across generations.
Band members
Mark Falcone (drums), Jonathan Isaac Hagen (lead vocals), Phil Harris (drums), Justin Hazelton (flute, vocals), Kyle Hazelton (guitar, vocals), James Margolis (guitar, vocals), and Parker Saint-Charles (bass, vocals).
Check out The Traveler's Live in the Studio
Check out our improved and upgraded sound system!!
Download Our Event Calendar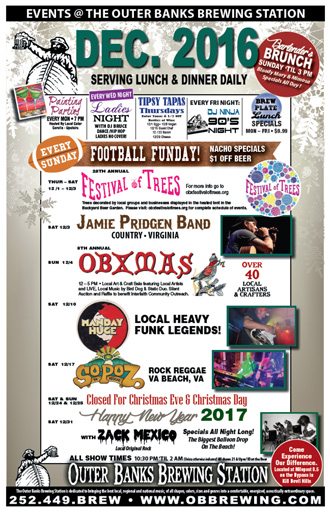 We are now making our Outer Banks Events and Live Music Poster available for download. Please display our poster at your place of business to remind your co-workers of what's happening this month, who knows, maybe it will strike up a conversation and everyone will want to come for drinks and dinner together sometime!? You could also download this Outer Banks events and live music calendar and pin it up on your wall at work as a personal reminder of when your favorite bands will be playing at the Outer Banks Brewing Station!
If you have any suggestions for OBX live music, we would like to know what bands our fans would like to see here at the brewery! Send us a shout!
Signup for our Brew Club
Sign up for our "Brew Club" to get the latest updates on beers, bands, and menu specials.
Give us your birthday and anniversary for a nice thank you gift on your special days!
Signup »