Half Price Wine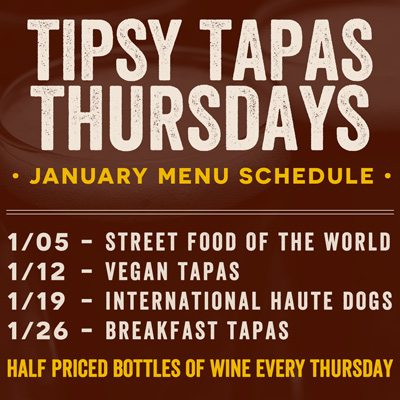 Every Thursday night, chef Tony and our talented culinary team create a unique tapas menu with a new star ingredient or theme each week. Bacon, cheese and chocolate are just a few of the inspired ingredients from past tapas nights. On the second Thursday of each month, chef Tony prepares a special vegan menu with fresh and healthy ingredients everyone can appreciate. Our tapas typically range from $5-$8 so you order one as an appetizer or several as a meal.
You can also pair your tapas with a half priced bottle of wine each Thursday. Our bartenders and servers can help you select the best bottle to go along with your tapas. We also offer cool pints of craft beer straight from our brewery and specialty drinks.
Foodies and wine connoisseurs, tapas night is for you! Join us every Thursday night in the off-season from 5:00 – 8:00 pm for an enjoyable dining experience.