Mission Statement
To continually strive to offer unique quality food and beverages in a comfortable, festive setting. We will strive to create a feeling of comradery between and among employees and patrons in a safe and noncompetitive working environment that allows for continued personal and professional growth.
Background of the Outer Banks Brewing Station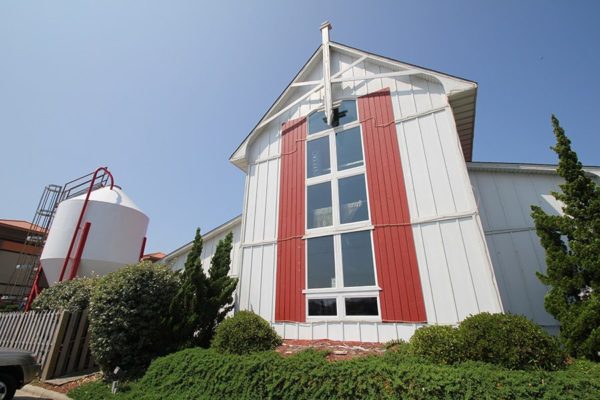 The Outer Banks Brewing Station restaurant and brewery began as a concept in 1992 while the founders, Eric Reece and Aubrey Davis were Peace Corps volunteers alongside Tina Mackenzie in Thailand. Aubrey had grown up spending summers at his grandparents' place on the Outer Banks, and felt it was the perfect place to start a brew pub. The Outer Banks Brewing station is now a staple in the OBX restaurant landscape.
Eric and Aubrey had developed an interest in home brewing, and Eric worked at a brewery with Scott Meyer in Berkeley, California. As their concept grew, they envisioned an environmentally friendly restaurant that celebrated the uniqueness of the Outer Banks and its history. The Brewing Station sits at the site of the original JK's, very popular and unique in its day. They have tried to stay true to their original idea:
"Innovative Brewing, Environmental Consciousness"
The building itself, designed by architect Ben Cahoon and constructed by Carolina Beach Builders, is a modern interpretation of a turn-of-the-century Lifesaving Station. The bar represents the lifesaving boat, that pointed toward the sea, is ready to be deployed down the tracks to save the crew of a floundering ship. The tracks are made from beach bricks, part of a modern day casualty of the sea. Tina started collecting the beach bricks, and Eric, tired of moving them, had them sunk into the floor!
Another person instrumental in the brew pub is Scott Meyer, a master brewer out of Berkeley, California. Formerly a vintner, Scott is a national and international gold medal winner in brewing competitions. He will be on hand to answer any questions, and help you become experts in the finer points of beer and the brewing process.
Christina Mackenzie earned her baking certificate at the California Culinary Institute, in Berkeley. She brings lots of experience baking desserts, breads, and wedding cakes, and also coordinates special events and caterings.
Want to know more about our Outer Banks wind powered brewery?