This week, the talented crew at Outer Banks Brewing Station has blessed us with three exceptional canned creations. Whether you're a fan of zesty citrus or a lover of the tried-and-true classics, there's something here for everyone. Let's dive into these tantalizing offerings: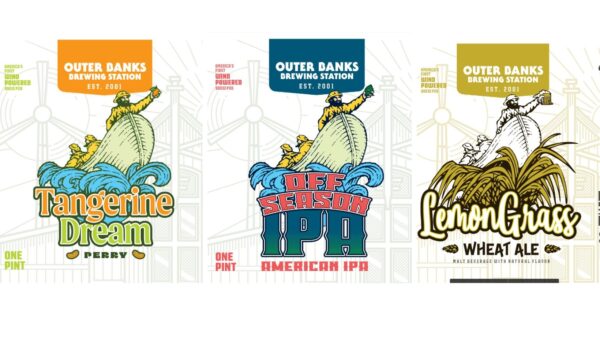 The Tangerine Dream Perry: A Burst of Citrus Sunshine
Introducing the Tangerine Dream Perry, a refreshing alternative to your run-of-the-mill flavored ciders and seltzers. Crafted with aseptic organic tangerine and lime, this perry boasts a vibrant citrus profile that sets it apart. With a 5.2% alcohol content, it promises to be a delightful companion to those seeking a lively, fruit-forward experience.
Off Season IPA: Your Ticket to a Tasty Fall
For the die-hard IPA enthusiasts, the Off Season IPA is here to tantalize your taste buds. This light-bodied session beer offers a perfect balance of relaxation and refreshment, culminating in a satisfying citrus finish. It's the ideal choice for those seeking a laid-back, yet flavor-packed beer to enjoy.
LemonGrass Wheat Ale: A Quenching Classic
The LemonGrass Wheat Ale needs no introduction. Its unmistakable lemongrass character brings a unique twist to the classic wheat ale. This brew not only quenches your thirst but also complements a variety of dishes splendidly. It's a popular choice for good reason!
Where to Find Them? You're in luck! These delectable canned creations are here, ready for you to take home. Alternatively, if you prefer the lively atmosphere of the brewery, you can savor the Tangerine Dream and the LemonGrass fresh on tap at the bar.
With the release of these three stellar brews, Outer Banks Brewing Station continues to showcase their dedication to crafting exceptional beers. Whether you're sipping on the Tangerine Dream Perry, indulging in the Off Season IPA, or savoring the classic LemonGrass Wheat Ale, you're in for a treat.