by Megan Scott, co-owner of The Spice & Tea Exchange of Duck.  She wrote this article for the Coastobx.com.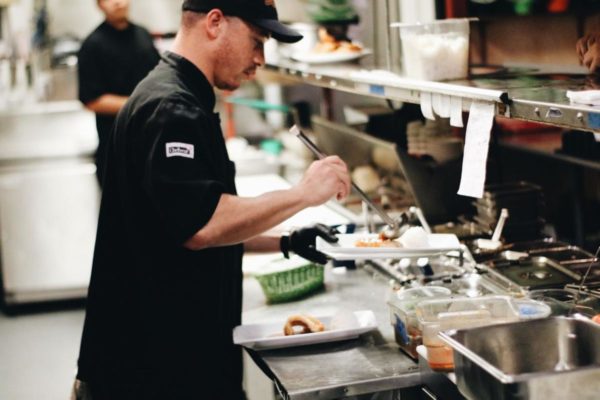 Halfway through Szechuan Tapas Night at The Outer Banks Brewing Station, I was standing in the back kitchen with Chef Tony Duman, looking at little red vacuum-sealed packages covered in Chinese writing. They were opaque so you couldn't see inside and they squished like jello when squeezed. These packets of fermented vegetables — mustard green roots, to be exact — were the thoughtful inclusion to tonight's Dan Dan Noodles tapas that kept pulling us back for more. That's what we surmised, anyway. There was definitely something beyond the alluring Szechuan heat and complex mushroomy broth, the little bits of spicy pork, and the silky noodles. Something pleasantly uncivilized, earthy, and delicious. Those Dan Dan Noodles were surprisingly bold and captivating, despite little pauses needed so our mouths could settle down. I ate mine slowly, trying my hardest to taste every minute detail of flavor Chef Tony wove into the dish. And then, just like that, they disappeared forever.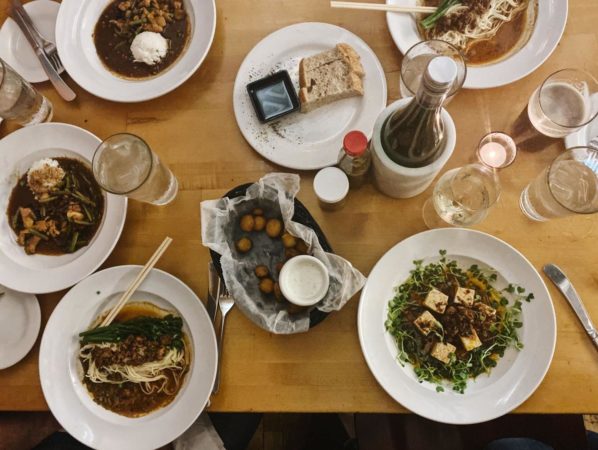 Tapas Night at the Outer Banks Brewing Station happens every Thursday from October through March. If you're not familiar, tapas are small plates of food, great for sharing, and they are Duman's playground. Tapas Night is his chance to cook in uncharted territory of cuisine and a means of maintaining freshness in a creative job that threatens to become routine (cooking every day for the masses in a busy tourist town). When the summer dies down, and we ease into Fall, Duman puts a call out around the Brewing Station and online for tapas theme suggestions.
The second Thursday of every month is always Vegan and Vegetarian Tapas, a permanent fixture after receiving lots of interest and love for his first attempts at vegan options years ago. This Tapas season also features guest chefs once a month — an idea Duman had a couple years back that's gained traction over time. With some stifled travel ambitions still haunting him from his youth, Tony says inviting other chefs into his kitchen is a way to learn from their worldly experiences and expand his own skill set.
The rest of the month, he offers different themes of ingredients and cuisines from all over the globe.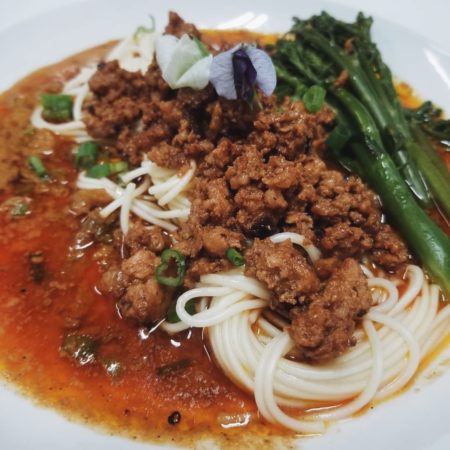 Aside from unique weekly tapas nights being a great idea that speaks directly to my love of eating big varieties of food in small portions, what really struck me about Duman is that he's only 37, he's been head chef at The Brewing Station for over six years (working at every station including sous chef for years before that), and he has an energy that we'd all like to approach our day with. He's filled with a calm, controlled enthusiasm for what opportunities lie in the 24 hours ahead and seems to want to squeeze every drop of knowledge, wisdom, and existence out of each day.
So, there's really no space for repeated creativity for Duman, he likes the challenge of something new and never does the same tapas dish twice. And this is why you, reader, cannot eat those Dan Dan Noodles that have been preciously filed away in my mental catalogue of Best Food Ever. You can't try the Sweet and Sour Crispy Rockfish with its shatteringly crisp fried coating, in perfect contrast to the sticky, tangy sauce. You can't taste Chef Tony's Mapo Tofu — spicy cubes of tender tofu and crispy crumbles of beef surrounded by a persistent, tingling hot chili oil and micro greens. But what you can do is be a guest at Duman's tapas nights any other Thursday from now through March and see what else he's come up with, what other new and interesting flavors he's introducing you to, and what will make you pause and decide you've never tasted anything quite so incredible — and then you can thank goodness you were there before it disappeared.