We were recently featured in a Travelocity article promoting 10 fun things to do on the Outer Banks, by Lina Zeldovich. Here's an excerpt from the article:
"A thin land ribbon stretched along the Eastern seashore, North Carolina's Outer Banks is endless golden beaches awash in rolling ocean waves. Set at the confluence of the warm Gulf Stream and the cool Labrador Current, the area is a surfer's paradise and a beach bum's dream. Yet, despite its leisurely resort pace, the Outer Banks has more to offer than sand and sun. Steeped in history, the area was home to the first English colony that settled on the American continent years before Jamestown. Famous for its wind, it was the place where the Wright Brothers soared into the sky, making humans airborne for the first time in history. There's plenty here for thrill-seekers too—from wildlife watching to hang-gliding. With reasonable hotel rates, seafood caught only hours ago, and plenty of affordable adventures, it is an undiscovered gem hiding from the crowds….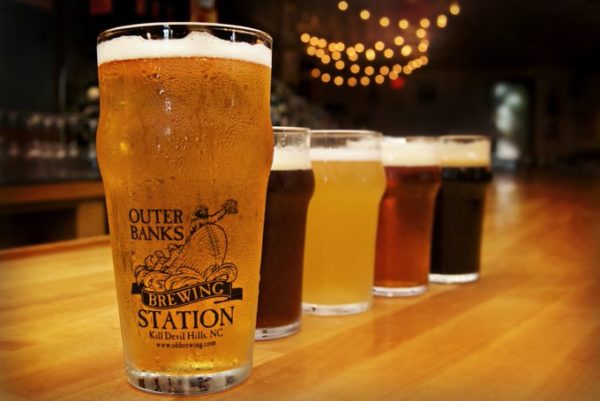 Cheer with the wind-brewed beer
No, it's not a joke. Wind can brew beer if harnessed properly. That's what the Outer Banks Brewing Station does—it uses wind energy to partially power their pub and brewery. The two owners installed a wind turbine to cut down on electricity costs and greenhouse gas emissions—plus the spinning white blades serve as a landmark seen from faraway. Enjoy dark lagers, fruity IPAs and a lemongrass-wheat ale, among other concoctions. If the Wright Brothers were still around, they'd surely swing by for a pint—and so should you."
Thanks Lina for the shout out!