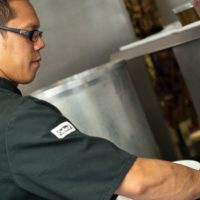 The artist comes in many forms and to limit the idea of creativity to visual arts, the written word or music is to ignore the full spectrum of the human experience. Pok Choeichom (Chef Pok, is much easier to say) has been creating edible masterpieces at the Outer Banks Brewing Station since it opened in 2004 and has been the executive chef there since 2007. His concepts are transformative—meaning they take what could be a good or average or unimaginative dining experience and create a memorable event, something that resonates with its imagination, its creativity and flavors.
Food is his palette.
"It's a creative outlet," Pok says. "Sometimes I . . . have a notepad next to my bed and dream about specials and I . . . write it down."
Pok came to this country from his native Thailand when he was seven—sent to be raised by his aunt and uncle by his grandparents who felt he would have more opportunity in the Untied States than he would at home. When he arrived, he could not speak the language and the Outer Banks was probably as dissimilar to the culture of Bankok where was born as any place on earth.
He thrived in his new home. He learned English—thanks to teachers who understood how to teach a boy to speak our language, and friends. "I learned to speak English because of my classmates and a lot of flashcards from my teachers," he recalls. His American parents—owners of the Thai Room Restaurant in Kill Devil Hills—kept him busy from the first day he got to his new home. "I couldn't reach the dish sink so I would stand on two boxes of Budweiser so I could spray the dishes," he says.
Although it took a little time, Pok found he enjoyed being in the kitchen. "Not when I was little and when I was surfing and all," he recalls. "I just wanted to hang out with my friends and I couldn't until I got my work done."
In many ways his upbringing was pr
etty typical of any American kid—he became a running back and kickoff return specialist at Manteo High School; played the positions well enough that he was offered scholarships to a number of Division I schools—settling on ECU.
College, however, was not where he wanted to be. "I never got into it," Pok says. "I got a little homesick. I had good grades but after two years I was just over it. And I missed food and family."
A formal education suits some people; for others it's the experiences of everyday life that is their school. "I'm pretty much self-taught," he says.
Self-taught in that he did not learn his craft in a classroom, but there were mentors along the way.
At the Thai Room he learned about spices and the need to make sure ingredients are as fresh as possible. There was Joel McClennan, a mentor who Pok cites a number of time, who was the sous chef at the Blue Point where he waited tables.
After working at Blue Point for a few years, he met Chip Smith and Tina Vaughn, who had just opened Carolina Blue in Southern Shores. The couple went on to open Bonne Soiree in Chapel Hill, but for the eight years Carolina Blue was open, the restaurant set the bar high for everyone on the Outer Banks.
Pok started waiting tables at Carolina Blue and then fate stepped in. "Somebody called in sick one day and they put me in the kitchen and that was it and I worked with them for the next seven or eight years."
The classic training of Chip Smith merged with the family background of Pok and the result is a true fusion style. "Taking French and Asian food and combining it . . . the spiciness and flavor of Thai food and the creaminess of French food. Experimenting and learning. Learning a few new twists for the food," he explains.
Fusion in style perhaps, but what really stands out in Pok's dishes is his understanding of the ingredients at hand. "We deal with probably one of the best seafood communities on the east coast," he says. "We really try to buy as much locally, to buy seafood and produce to help the local economy."
The result has been multiple local awards including People's Choice Awards at Taste of the Beach two years in a row, recoginition by his peers as an outstanding chef, statewide notice of his work. Perhaps most importantly: "People have been really happy when they come in the Brewing Station. They come in and they think it's going to be a hamburger joint and then they see that menu on the entree side."
Source Via: NorthBeachSun