The Outer Banks Brewing Station (Kill Devil Hills) in conjunction with the Jason William Hunt Foundation is pleased to announce September's 2016 Therapeutic Wilderness Awareness Month to help teens at-risk learn to believe in themselves. Through this partnership the foundation will be able to raise awareness and provide scholarship funds for North Carolina teens to attend therapeutic wilderness expedition treatment programs. These programs are designed to last 50 – 70 days and can cost $500 or more a day. Outer Banks Brewing will make a donation based on its tap room sales of their Belgian Saison Ale.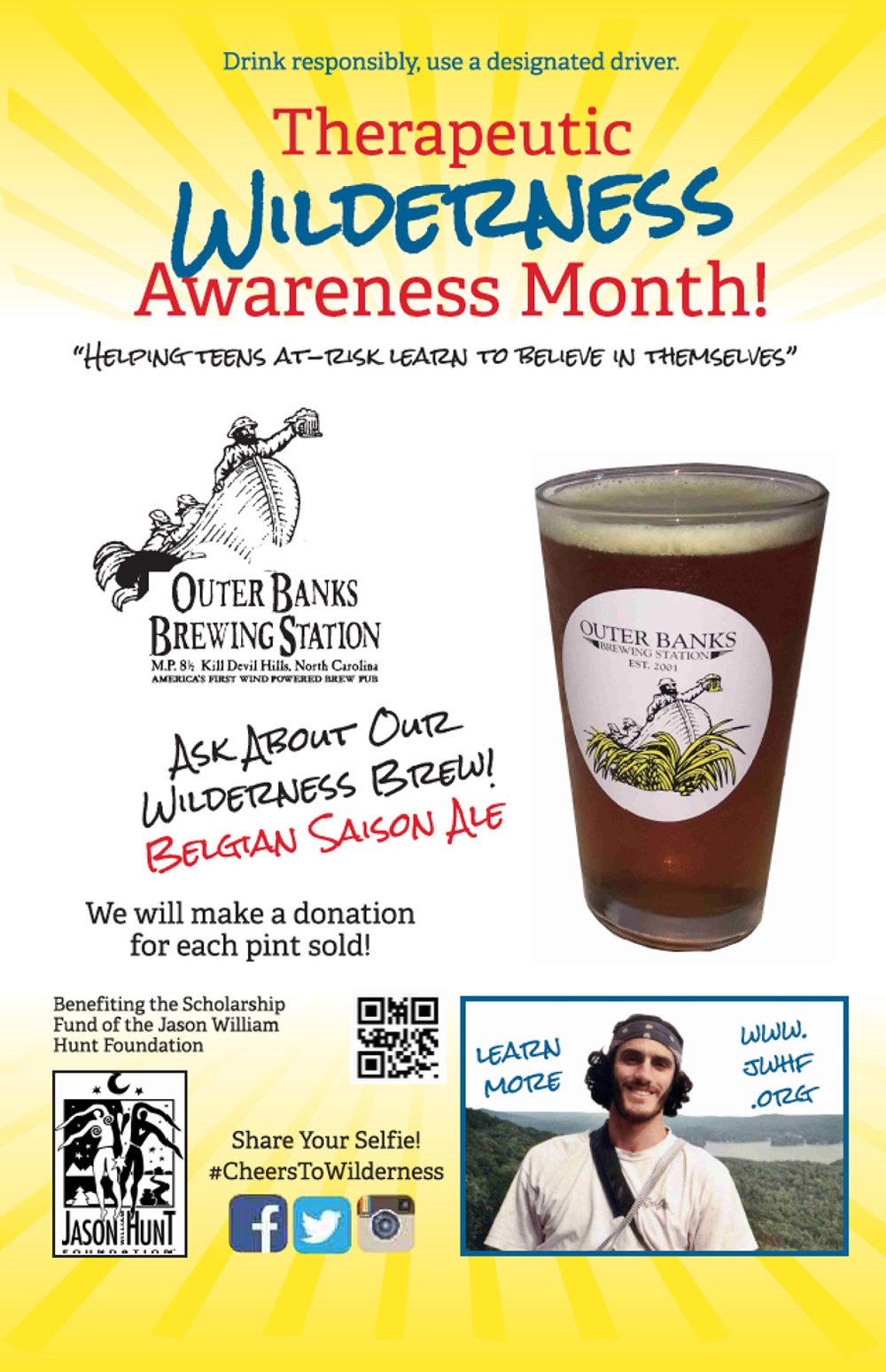 Both owners of the brewery individually walked the entire 2100 plus miles of the Application Trail. From their experiences, Aubrey and his wife Karen understand how the challenges of the wilderness can lead to tremendous developmental changes in the three R's of developmental change: personal respect, respect for others, and accepting responsibility for one's own actions. Studies confirm this and show that for some children such extended immersion in the wilderness while working in small peer groups under the supervision of trained professionals can produce results not seen in six years of weekly one on one clinical sessions.
Treatment programs vary in that some may focus on alcohol and substance abuse and related issues while others may focus on behavioral dysfunction: acting out, depression, low self respect, cutting and other actions caused by sexual abuse, abandonment by a parent due to death, divorce or prison. Also some programs are gender and or age specific. It is important that the parents research multiple programs in order to find the proper care for their child. The foundation's website has a list of affiliated wilderness both in North Carolina and across the country.
Jason William Hunt, for whom the foundation is named, was a wilderness educator who worked with the at-risk population in Montana and Connecticut prior to his death while on vacation in a climbing accident.
For more information visit Outer Banks Brewing Station and the foundation's website www.jwhf.org