We are open at 11:30 am everyday for dining both indoor, outdoor and of course take out through Sunday, Jan 3rd. We will be open all day on New Year's Eve and New Year's Day. Current NC Covid restrictions require all businesses to be closed by 10 pm (Last Call just before 9 pm), so there will be no balloon drop at midnight on NYE this year.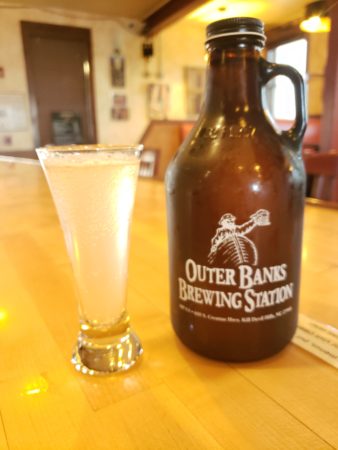 After January 3rd, we plan to take a break and close until February. On January 3rd, all food will be half off till it's gone!!
For last minute gifts, remember, our Naughty and Spiced Christmas Ale (8.4% abv) is on tap and we were able to get it in 16 oz. cans too!
Also, our newest Hard Seltzer- Island Time Pineapple Mango – is available in pre-fill growlers (32oz) since we cannot fill growlers of this tasty gem off the tap (unlike beer this type of beverage needs to be counter pressure filled to keep the carbonation intact.)  We don't know how long these growlers will last at $12 but so come out as soon as you can to get the to go version.  If you bring back the bottle you can refill it with beer for the refill price or get a dollar off your next Perry Prefill!! We also have our new seltzer, mango pineapple on tap and in mini growlers!!